Hi everyone,
Excited to give a quick review and first impressions of the awesome new gimbal from Tilta. Now this is just a pre-lim review and we still have more testing to do but it should give you some good initial information.

……and of course you know we are working on a few new great accessories for it!
I got mine from Abel in Burbank. $4400.00
First Impressions:
First impressions were overall very positive.
The case and the foam inside reminds me of the Ronin of course, just blue. That said it is very nice case. After 1 week of ownership the top blue layer is already coming off in some spots….ow well.
There is a center "block" of foam where they put a cable. Not sure why they did this as makes it so that you have to re-adjust your gimbal "cradle" every time you put it in the case. I might be ripping that off for that reason as it takes along time to get it into the right position.
You get alot for your money. Extra things like sdi cable, tripod screws, d-tap power distro box etc etc…. you guys all know "whats in the box" so I wont repeat it.
Suffice to say, the build quality and the product presentation is solid. Nice work guys.
Few small issues….
-The manual. I am a manual type guy. This one is poor. I learned just about nothing from it. It is by all means just about useless. No quick start guide. No glossary or description of WTF "trace" means "portable"?…or any of the vague and random names they have given to things or what things in the mimic receiver menu mean and do….or even any mention of the app! I mean what is "dynamics" or "compensate" WTF do you mean?…..it is a bit frustrating. Sorry to vent. I guess we are left to figure out on our own.
-No rubber pads on the stand "fingers". for a gimbal that ships with CF handlebar tubes that easily scratch this will quickly lead to your handlebars looking rough after a few rentals etc….Not a big problem but a small annoyance.
-The included 1/4-20 tripod screws are basically too long for DSLR and some cameras. The camera dovetail is really thin so what happens is that the included screws "bottom out" and the dovetail is still loose. I had to use a washer I found that was almost too thick to slide in in order to mount my test camera (nikon d4). Im sure this wont be a problem with bigger cameras and the threads are usually deeper in larger cameras, but I wouldnt be surprised to find the same issue again. This could of been solved but a dovetail that was just a bit thicker. Not a big problem but a small annoyance.
-The dovetail is very short. For a gimbal that is too be used with big camera and "long builds" this will be a problem.
-The "safety catch" mechanism on the dovetail is horrible. You have to use your fingernail and your barely able to release it to remove you camera. The system on the ronin is much better. Not a big problem but a small annoyance.
-Don't slide the dovetail in backwards!!! of you do it gets very stuck! took me 10 mins to figure out how to get it out!
-The handlebar accessory clamps of which they give you 4 (thanks) have 2 1/4-20 threads…….. what do I do with 2 of the same size? I have noga arms that only end in a 3/8-16. Would of been smarter to have one of each size instead of 2 of the same…….Not a big problem but a small annoyance.
To balance was easy and the procedure made easy to get perfect by use of the "worm gears/lead screw" adjustments…..that said…..
The design of the tilt adjustment has one major flaw…..it takes FOREVER to turn…..If your going from one camera to another….DSLR or light build raven….to heavy F55….your going to sit there for 10mins or more turning those damn knobs. It would of been nice to have a way to slide things quickly and roughly to where they need to be then just "fine tune" with the knobs. That is how the dovetail fore/aft functions…..that is how every steadicam functions. Because no one has time to turn knobs for mins at a time while people stare at you.
I have a new name for the tilt knobs……"the forever knobs"
Now might sound like I'm complaining….and I am a bit. But this is only an annoyance for people working with different cameras all the time…or every time you have to put it back in the case because of that center block you need to move the cradle down. That said, when it comes to heavy builds (which this gimbal was designed for) having the lead screw adjustment is critical for getting a perfect neutral balance.
So while I'm giving them a hard time on the design execution a bit……..I welcome and happy to have the fine tuning adjustment.
The battery.
The battery is only 2200mah. My ronin batts are 3400mah. With all the additional power outs this thing has and all the accessories we will power from it on professional builds(potentially) and the NEED for additional PAN weight to balance heavy loads I question the decision to go with a smaller battery. I mean this is already a heavy gimbal. You wont be able to pay me to hold it. I own a ready rig and it is the best way to operate a gimbal IMHO. Sorry armorman! But to each his own and everyone use what you prefer by all means.
But back to the subject…..it is already a heavy gimbal, I am using support (RR or AM2) so please by all means give me a bigger battery. Just my .02 cents.
Still on the battery subject….on occasion….i flip the power switch and nothing happens. Actually this happens a lot
I find have to take the battery out and re-seat it to get it to power up again…….another small annoyance.
Weight.
Not 8.8lbs ….on my scale. Handlebar attached, dovetail on. I wasn't expecting it to be light but that is not quite 8.8lbs they advertised but close enough right? I'll exchange weight for horsepower anyday. I didnt get this gimbal because it was lightweight. Just looking forward to see how fast I can go with this mounted on my car. I also have a readyrig so once again I'm not worried about the weight. I just figured I share my findings do some fact checking.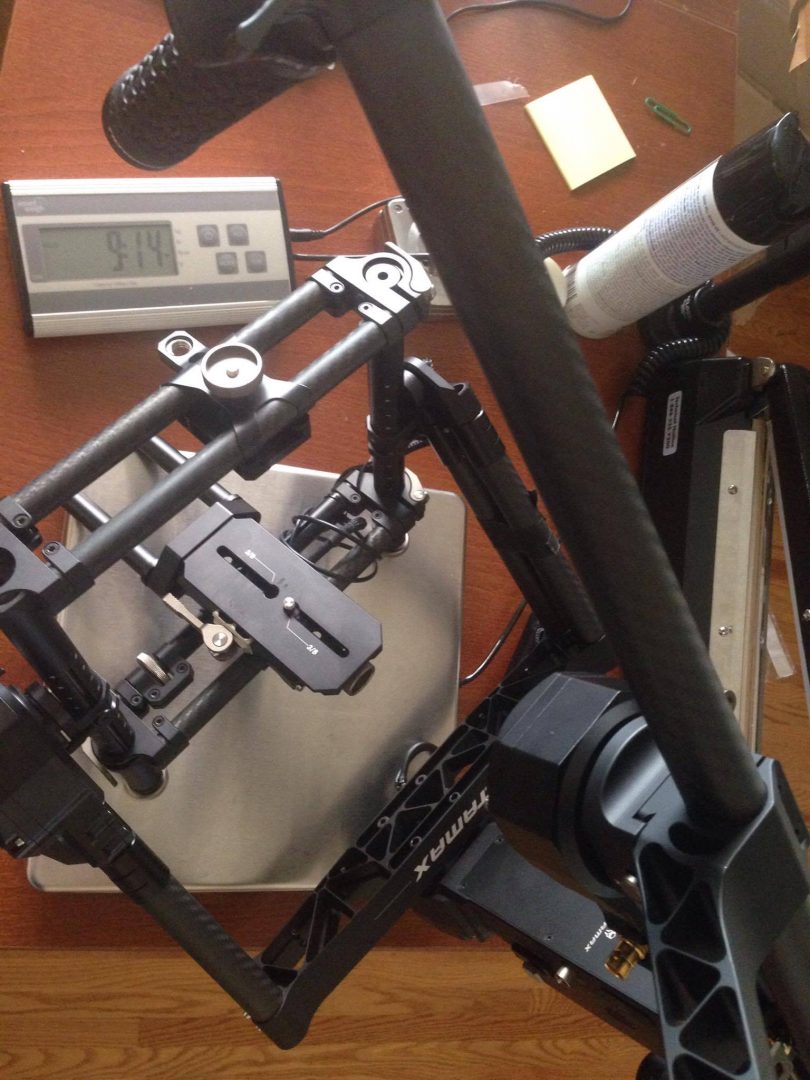 Besides, If you are worried about the weight then you got the wrong gimbal!!
Ok….. the good.
"follow mode" or whatever you would like to call it. "majestic" "smoothtrack" "trace"
This mode is vastly improved from anyone coming from a Ronin in my opinion. The Ronin-MX made improvements in this area but the gravity is better. It stops hard if you want it, if you adjust the smoothing it will stop more gradually but most off all it seams the adjustments in the app produce a greater response from the gimbal. Most importantly it seams to "follow" you movements with more response.
The APP,
Downloaded the app from the app store, connected right away and while watching the video on the tilta website I tried to decipher the English and learn what each adjustment did. Seam like you can save configs (nice option) but actually the app is fairly straight forward it seams. My biggest issue is just trying to understand the language and nomenclature used. Then I opened the app 2 days after and it now shows everything in Chinese…..so I have no idea what I did for that to happen or how to revert it back to English now as there is no manual. I guess I just delete and re-install.
So what about remote control?
So as you know it does not come with a remote. Which is a gamble for tilta honestly. I personally don't like this idea much. I see the mimic far from a primary choice for remote control. I have used remotes for a long time. I used it to operate remote heads on russian arms, remote heads and RC planes/drones for years. I love wheels of course and the mimic for me is useful in some situations for example to create a "pan bar" on a tripod head on a low hat for example.
But that setup is big…tripod head, pan bar, low hat…..I'd hate to put that on my lap and attempt to operate in a moving vehicle…..this is where a remote makes so much sense.
That said I own many futaba and hi-tech remotes…..which I am assuming I should be able to bind with the gravity at some point(not at the moment)…..I would imagine they are also going to make it work for the 1Atools "wheels"……but that is not reality now. Reality now is the mimic, and I dont particularly like that it is my only choice.
So what about the mimic…..ejector……rejector…..argh….I wish we could all agree on some standard nomenclature already!
Speaking of which….language. So many English mistakes in the "manual", video, website and app. It's a small thing but I would expect more….
anyways…..back to the mimic (for lack of a better word)
Here is where my biggest frustration lies.
When i bought all my ronins….I pulled them out of the box. Turned them on, turn the remote on and was off to the races…..everything was bound at the factory and worked right away. Only after did I pull out the manual, watch YT videos and really learn everything about the tool. Not the tilta, doesn't work out of the box. Not sure how they did a final QC check without binding and testing remote operation…..humm….
I am many days in since my purchase and I still have not been able to make the mimic work and since it is the only remote control option I have had to put some testing on hold.
This is embarrassing to admit. As a guy who has been around RC toys and high tech gear all his life. Which is why it really irritates me.
-I started by trying to decipher the manual…….no use. Nothing in there mentions how to bind the mimic. This seams like such basic information to include. It boggles my mind.
-Then I went to the tilta website….found the .pdf of the same manual and a app tutorial video. No help there.
-I went to the youtube and found a gravity video make by IKAN that was more of a overview with no close up shots or instructions on how to bind. he just quickly hits a few buttons and his mimic works……so that video didnt help any.
-Then I went to the Facebook users group. Found a nice member who tried to help me….no go…..then he got me in touch with someone from tilta USA. I was happy to FB message with someone official. Unfortunately I still could not get it to work. He gave me a good piece of information which was to hit enter a second time once you back in the main menu to enable it. That said still no go. I tried many combinations and nothing.
so that brings me to where I am now…..trying desperately to get my remote control working so I can do my tests on Tuesday.
Looks like I have connected the mimic to the gimbal (I see the serial number on the display) I hit enter a second time and see 0TX on the upper right hand corner. The movement gauges move when I move the mimic……but my gimbal does not respond.
So I'd love to finish off my review saying i was happy with the mimic and the gimbal and their choice to make it the only way to control your gimbal remotely, but at this point I can't.
All of this could of been simply prevented with a simple piece of paper with a simple well written "quick start guide".
I understand the rush to ship product. But you have to have some basic documentation, before you ship such a complex device to consumers.
So it does bug me a bit.
Nobody I spoke too was able to help me get it going. maybe my unit is bad. who knows at this point. Maybe I am not doing something simple, not pressing a certain button, skipping a step…. I wouldn't know since I am flying blind.
Look I'm sure in a month there will be tutorial videos, quick start guides, so all this will be ancient history and no longer relevant.
So back to the Review……. in sum. "Pedro what did you think?"
Honestly? Nice work. Tilta did a lot right here. I commend them. Few loose ends but no product is perfect.
that said……there is still much testing to do.
As soon as I get my remote control back I will really put the gimbal to the test. I want to see with a full load (25-30lbs) if the motors are as strong as they say.
I want to see how it deals with acceleration in a vehicle….wind pressure etc…quick pans while extended etc…
There is sooooo much to test and see how it does before I am truly sold on it and can blindly recommend it to my friends.
Despite my small list of complaints I think they are off to a good start.
Now lets see how the product support will be also. That is another huge issue for many in the industry when buying equipment.
I value a good post sales support like gold.
Because everything can and will break/malfunction.
What makes a company win me over as a long term customer and wins my loyalty is how they treat me after they have taken my money.
Looking forward to what other owners experiences are. If you have a gravity in your hands, let me and other who are reading know what you think about it so far.
I hope my review didn't come off too harsh, overall I think once the initial bugs are worked out I expect and hop this gimbal to deliver.